V-RAD Select Electric Series
These lightweight electric torque wrenches include features designed to deliver accuracy and ease of use.
Check Out the Available Models of the V-RAD Select Electric Series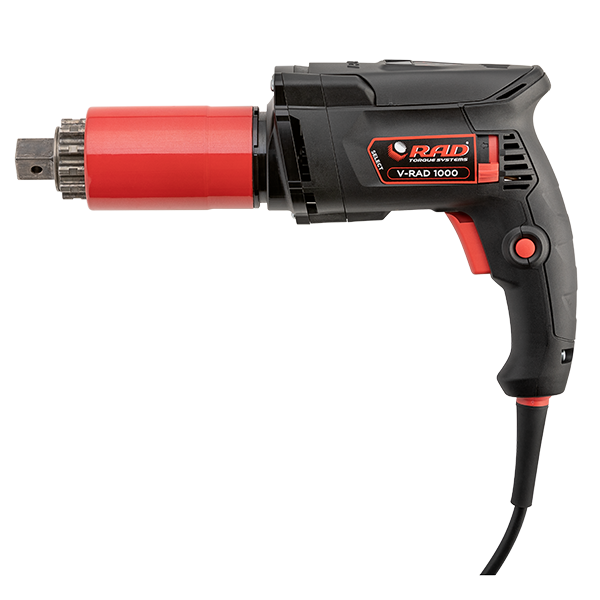 V-RAD Select
The V-RAD Select line boasts three models, with torque ranges running from 100 to 3,000 ft/lbs (170-4,000 Nm).  Choose the platform that works best for you: either a digital display or an easy-to-read screen. With the four-digit display, you have immediate access to your set torque value to keep your work accurate.
All models of the V-RAD Select line deliver equal power in forward and reverse. On top of that, these torque wrenches:
Facilitate quick adjustment of torque settings, with pushbutton ability to increase or decrease torque
Include a calibration certificate with ISO 17025 accreditation
Can work with 120v and 220v power
Are lightweight and ergonomic for maximum control
View Details
Here is what you can expect:
Quick-adjust torque settings
Individual calibration to ISO 17025 standards
Available in 120v and 220v for versatile use
Ability to increase or decrease torque by 10 ft/lbs with the touch of a button
Includes reaction arm, retaining ring, and weatherproof storage case for out-of-the-box use
Ergonomics
The V-RAD Select is designed to be the lightest, simplest, electrical torque tool available, without the clutter of a control box or power supply.
Productivity
The V-RAD Select is easy to set up and get working, with a simple display to set the target torque.
Reliability
Using RAD's patented gearbox design, the V-RAD Select works harder than the competition with almost no failures.
YOUR HEAVY-DUTY APPLICATIONS DEMAND THE
RIGHT GEAR
Discover the best RAD tools to boost your productivity.