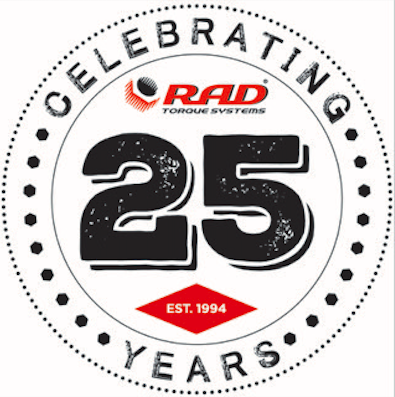 RAD Celebrates 25 years in business!
August 26, 2019
This year is a big one for RAD Torque Systems since we're celebrating 25 years in business! A milestone that only few companies reach.
The RAD story began in a small garage in Abbotsford, BC, where Dan Provost started manufacturing planetary gear reduction torque wrenches. He had a few trial and errors, but ultimately had success with his design.
When he started the company, Dan set out to create torque wrenches that were more durable and lighter than what was available on the market at that time. That first year, he built 22 tools. Today, RAD Torque is recognized as the leading Canadian manufacturer of pneumatic, battery powered, and electronic pistol grip torque wrenches, producing thousands of torque wrenches and torque accessories every year – and trusted by companies such as Boeing, General Electric and Suncor, to keep their workers safe, and their businesses in motion.
Operations have also come a long way from the small garage where the company began. Our headquarters are now based out of a 50,000 square foot manufacturing facility, and we've expanded throughout the world to include Australia, China and Europe – serving heavy duty industries like oil and gas, wind, petrochemical, mining, aerospace, and manufacturing.
The company's growth is directly related to the team's continuous dedication and hard work over the past 25 years. Their determination to innovate, combined with their grit to succeed, has been a massive strength for our team, placing us at the forefront of the industry.
Our skilled engineering team joined with our manufacturing capacity allows us to provide customizable solutions. The whole team is ready to take on new challenges head first. Dan, the founder of RAD said "We do things that most companies wouldn't even consider. We are ready to say yes to any opportunity out there." By responding to the needs of the industry, we have been able to adapt.
There's no doubt that our specialization in gearbox design makes RAD Torque wrenches stand out. The RAD advantage lies in the planetary gear driven wrenches that have a continuous rotation while applying a controlled torque. This makes them much faster than a conventional torque wrench. Not to mention, the convenience of having the motor built into the handle and ergonomic pistol grip design is unmatched.
As we celebrate 25 years in business, and we look back at our accomplishments, we're equally excited to continue on the path of innovation and employ new techniques to achieve the highest quality for our tools, to provide an unparalleled experience for RAD customers.
Contact RAD today for industry solutions: https://www.radtorque.com/contact-us/