RAD Tools: Built to Last
June 15, 2017
At Rad Torque Systems, we build durable torque wrenches that are meant to last. In fact, we were recently reminded of just how reliable our tools are!
A customer from North Dakota sent us this photo of a RAD 30 pneumatic torque wrench that was first purchased in 2005 – making this tool an impressive 12 years old.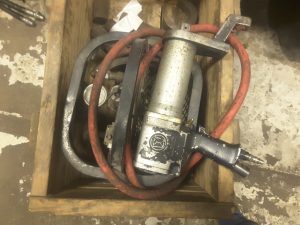 Based on the picture you can tell that the tool has been well loved. In fact, the 12-year old RAD 30 has been used on heavy-duty equipment including cranes, loaders, excavators and conveyors. This is a testament to the materials and craftsmanship that go into every RAD Torque Systems tool. Our team of engineers and technicians are dedicated to designing and manufacturing durable torque wrenches that can withstand the toughest industrial environments.
The RAD 30 has a range of up to 3,000 ft. lbs., and while you can still order a RAD 30, there is a new an improved version of this model called the RAD 30DX, which has a more compact and lighter gearbox.
This is an excellent example of the stories we often hear from our customers who keep their tools for a lifetime – something we're really proud of.
At Rad Torque Systems, our commitment to excellence doesn't stop at the sale. We also offer maintenance and repair services to ensure that your tool continues to perform at its best. Our team of experts can diagnose and repair any issues with your tool, and we also offer calibration services to make sure that your tool is providing accurate readings.
If you're in the market for a new torque wrench, consider investing in a RAD tool. And if you already own a RAD torque wrench, share your story with us on social media using the hashtag #MyRADTool. We love hearing from our customers and seeing our tools in action!