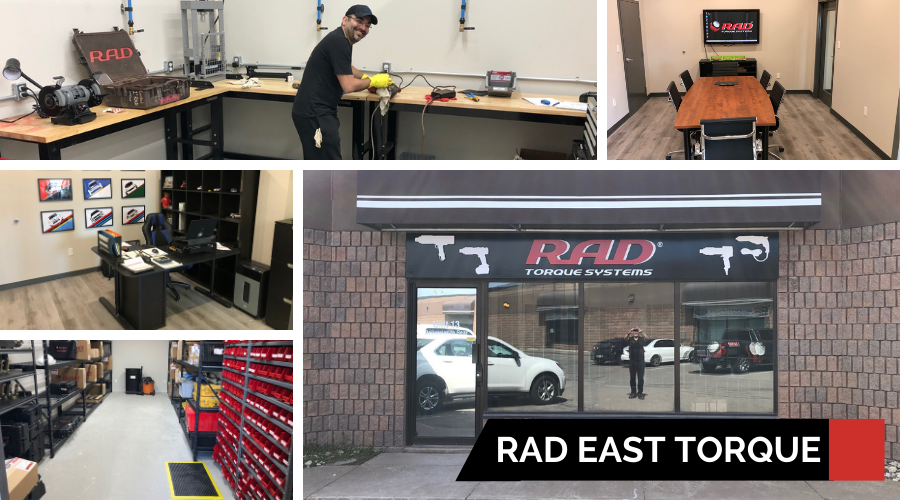 RAD East Torque Systems Unveils New Eastern Canada Velocity Service Centre
April 28, 2021
After much anticipation, we're excited to announce that our Eastern Canada team, RAD East Torque Systems, has officially moved into their space in Beamsville, Ontario. The move to the new 2,500 square foot Velocity Service Centre expands RAD Torque's capabilities to better service the Eastern Canadian market.
"Moving into a larger space increases our warehouse capacity by 300%, which will allow us to expand both our tooling and parts inventory to meet the growing demand we're seeing in Eastern Canada," says Mark Venables, RAD East's General Manager.
The all-new service centre will now nearly triple RAD East's service capabilities compared to 2020, which allows the team to offer on-the-fly servicing and planned maintenance appointments. "We hope to be able to bring clients and distributors back into the facility soon for our expanded training program and future product launches, with the goal of broadening our team's knowledge," explains Mark.
Over the next few months, RAD East plans to focus on their ISO 17025 certification, with Gregg Venables, Office Manager, overseeing the process with the help of the RAD Torque compliance team at our headquarters in Abbotsford, BC. "Having the RAD East facility ISO 17025 certified means that our customers, both locally and throughout Eastern Canada, can trust that their tools are maintained correctly and that our team follows strict protocol," says Mark.
In addition to RAD East's program to offer tools, training, servicing, and maintenance to Canada's Eastern Provinces, the RAD East team hopes to act as a catalyst for RAD's expanding global business model. Building satellite locations, similar to RAD East's new space, will hasten the expansion for RAD on a worldwide scale.
"Our goal has always been to provide our existing and future clients with fast response times, rapid service, and detailed training," explains Mark. "We wouldn't have been able to build this showpiece facility without the help, guidance, and trust from Dan Provost, President and Owner and the rest of the RAD Torque team, in particular our Cheerleader in Chief, Irene Tod. It's been a long and winding road to get to this point but this new space is exactly what we envisioned back when we started RAD East."
Working closely with their Abbotsford account managers Dennis Roy, Murray Chapman, and Jenny Lura over the years, the RAD East team has grown exponentially since 2014. Now the RAD East team will continue the pursuit of world domination with the help of Gregg Venables, Tommy Rodrigues, and Sylvain Duguay at the new Ontario facility.
Please join us in congratulating Mark Venables and his team for all their hard work. We're excited to see where this new facility takes them!
"RAD East is available 23.5 hours a day for training, servicing, and maintenance inquiries, please email the team at radeast@radtorque.com" according to Mark!