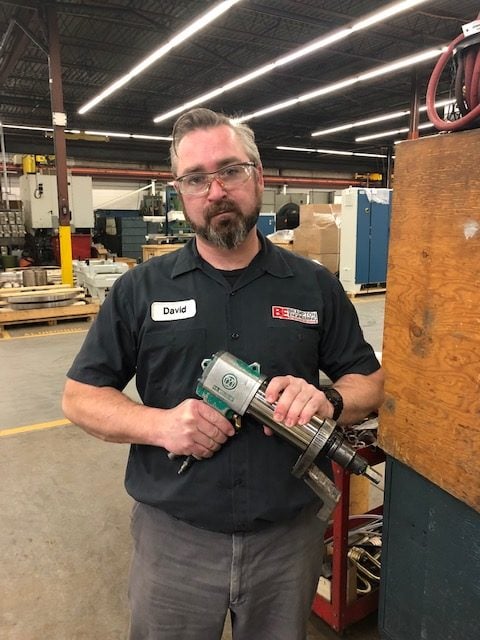 Built to Last: RAD Delivers Durability and Reliability with Every Tool
May 15, 2019
At RAD we're all about heavy-duty. On top of handling hundreds of foot pounds of force across several industries, that heavy-duty promise means our tools are built to last, which is why we want you to meet Dave.
Over at Brampton Engineering, just outside of Toronto, Dave builds spiral modulators. These are the assemblies that spin plastic polymers into film used in the packaging and print industries, which means a lot of hex head fasteners torqued to 550 ft lbs.
Dave's tool of choice, day in and day out, has been the same gun you see in our pictures, a RAD 1000 with chrome annulus and green Uryu air motor. What we didn't know was that this tool had not been calibrated since 2012, when Dave started using it. Recently, we got the call to come in and check out the tool, as well as give a quote for a replacement unit.
This gun was made in 1996, which makes it 23 years old. While we can't be sure if it was built in Dan's garage, where the very first RAD tools had their humble beginnings, all indications are that it's one of the oldest surviving RAD guns we know of.
The big question is…does it still work? And the answer is an absolute yes!
After a strip down and clean up, with no parts replaced, we ran a calibration that showed only a 3% difference in output torque from the original build, after 23 years of use.
This heavy duty tool is a shining example of the quality and durability RAD stands for.
So, when customers baulk at the cost of a tool or ask about life cost, durability, wear and tear, point them to this story. We can't say how many hours this pneumatic tool has done or how many cycles it has performed, but we can say with total confidence that RAD builds the best heavy duty tools in the market. Tools that are proven to stand the test of time.
Ask yourself, how many cars have you had since 1996 and whether you think any of them still run. Then ask yourself if they've only dropped 3% in performance over that time. We all know the answer to that one.